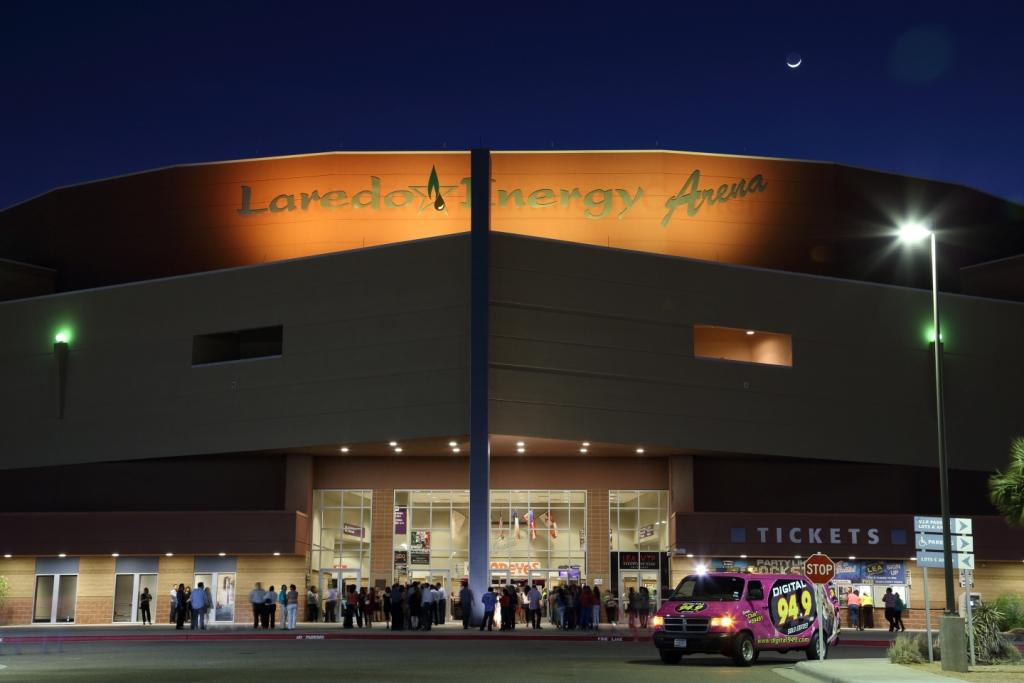 ---
The Laredo Energy Arena is proud to welcome you to our special section created with you in mind. We hope that you find all the information that you will need to build a successful show at the LEA. Please do not hesitate to give us a call or drop us an e-mail with any additional questions or requests you may have. We are committed to helping you make your shows the best they can be with the most successful outcomes. We look forward to working with you on a regular basis. Please consider us part of your winning team!
Please contact our staff for specific inquiries.
BOOKING & PRICING

Xavier Villalon

General Manager

(956) 523-6571

PRODUCTION SPECIFICATIONS

Javier Solis, Jr.

Director of Operations

(956) 523-6598

BILLING & PAYMENT

Juan Carlos Mendiola

Director of Finance

(956) 523-6576

MARKETING & MEDIA INFORMATION

Anissa Trevino

Director of Marketing

(956) 523-7736

SHOW CATERING




David Cuellar

Food & Beverage Manager

(956) 523-6596
---
SEAT CAPACITIES

Concert End Stage: 9,622

Concert 3/4 House: 6,780

Concert 1/2 House: 4,144

Club Annex: Varied configuration between 500 and 2,000

Ice Hockey/ Ice Shows: 8065 capacity

Arena Football: 8067

Basketball: 8665 capacity

AMENITIES

Over 2,000 well-lit parking spaces

Two food courts

TV monitors in concession areas

Team Store

Six box office windows

Six spacious meeting rooms

Custom made, adjustable scoreboard weighing 10,500 lbs.

Ice Rink (200 ft. x 85 ft.)

STAGING INFORMATION

The stage can be a maximum of 72' x 40'.

The height of the stage can be between 4'-6' with increments every 2".

The stage has 2 sets of stairs, stage barricade, 1 ADA accessible handicap lift, and black skirting.

RIGGING

The weight limit is 120,000 lbs.

The height of the rigging Information: The steel is 57' and the jumbotron clearance height is 50'.

The rigging steel is in a grid-like pattern.

SPOTLIGHTS

The Laredo Energy Arena has 4 Super Trooper spot lights.

The spot lights are mobile and can be place in the suite level or in the catwalk.

Additional spot lights are available, but must be rented.

There are a total of 10 clear com headsets in house.

SHOW POWER

Show power is located behind the stage, stage left and stage right.

DISTRIBUTION

Additional power can be found in the catwalk and one 200 amp is available in the back dock for shore power.

STAGE LEFT

2-400 amps, 3 phase with 208 volt 2-200 amps, 3 phase with 120 volt

STAGE RIGHT

2-400 amps, 3 phase with 208 volt 2-200 amps, 3 phase with 120 volt

CAT WALK

1-200 amp

SHORE POWER

1-200 amp

SQUARE FOOTAGE

The Laredo Energy Arena has floor square footage of 27,000 square feet for a trade show.

LOADING DOCK

The LEA is equipped with 3 truck docks and 1 ramp available for shows use.

DRESSING ROOMS

LEA has 3 visiting team locker rooms equipped with lockers and showers.

There are also 4 dressing rooms with a bath room (including a shower).

Also available is 1 green room and 1 show office.

Tables and folding chairs are available in house.

The show office is located directly behind the stage area.

MEETING ROOMS

There are a total of 6 meeting rooms.

4 of the meeting rooms located on the concourse. They can be turned into 2 large rooms approximately 1,360 square feet.

Standard square footage of the meeting rooms is 620 square feet.

ADDITIONAL FURNITURE

Furniture can be ordered.

PHONE LINES

Local and long distance phone lines are available for $100 per day.

A total of twenty (20) phone lines are available.

PIPE AND DRAPE

There is a very limited amount of in house pipe and drape; however additional pipe and drape can be rented.