09/08/2017 9:06 AM
-
La Ley and Digital
presents
A Latin Night of
Banda, Reggaeton and Comedy
at the LEA
THURSDAY, OCTOBER 12
Doors: 6:00 p.m.
Concert: 7:00 p.m.

FOR IMMEDIATE RELEASE: Friday, September 8, 2017

LAREDO, TX – Enjoy a mix of Latin entertainment with Mexican Banda musician El Komander, Cuban Reaggaeton singer Osmani Garcia and comedic YouTube family pair Rosa and Jaime at the Laredo Energy Arena on Thursday, October 12 - presented by La Ley and Digital. A portion of all proceeds will be donated to the hurricane relief.

"We work with promoters to bring variety of acts in one night to the Laredo Energy Arena," said Xavier Villalon, General Manager of the SMG - Managed Laredo Energy Arena.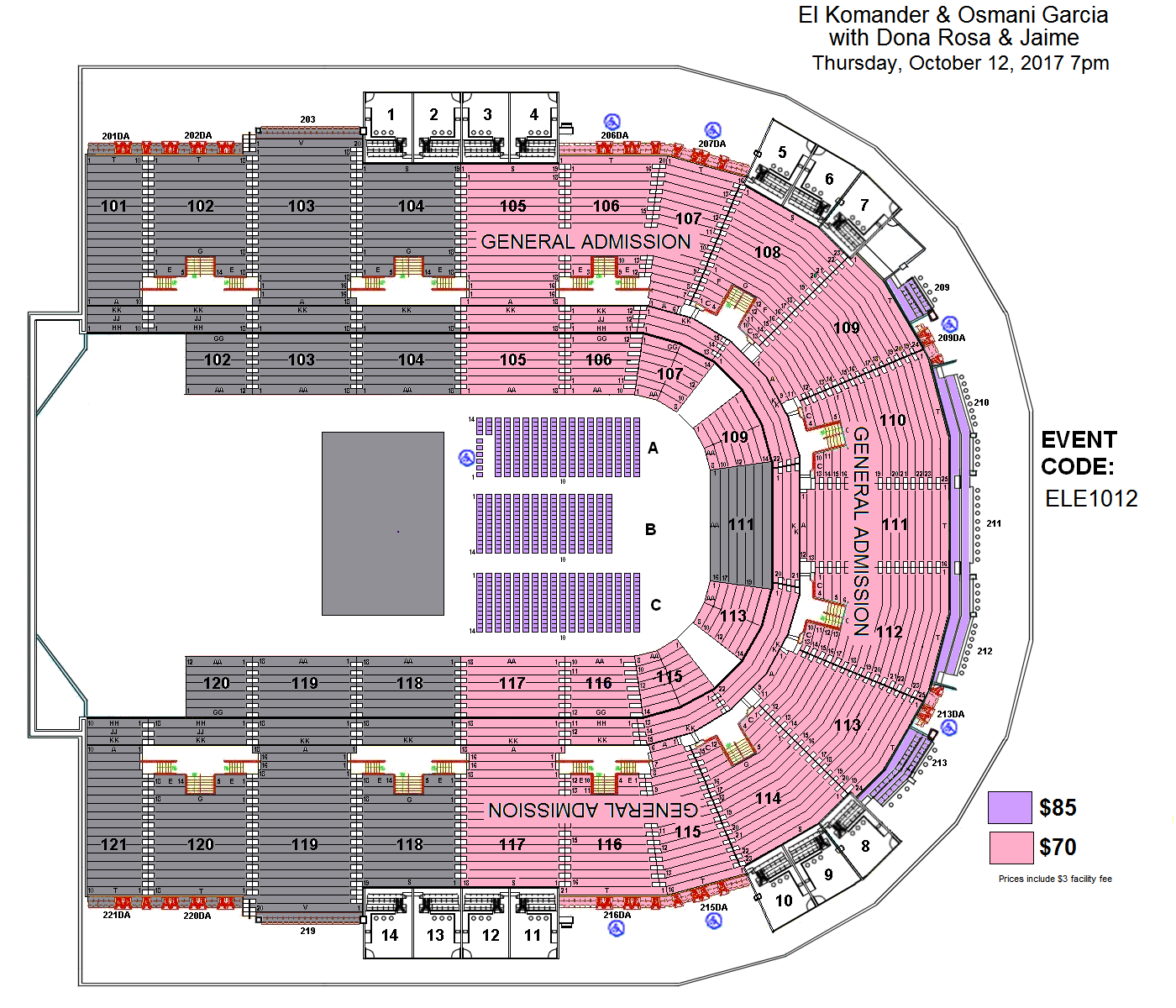 Half Price Special
Monday, September 18 – Friday, September 22
$35
(General Admission Bowl ONLY)

Original Prices:
Floor Seating $85
General Bowl $70 (starting Saturday, September 16)
(Facility Fee Included)
Tickets available at the LEA box office, Ticketmaster.com
or charge by phone at 800-745-3000

El Komander

Alfredo Rios, better known as El Komander, is a Mexican singer and composer of the genre Banda, especially in the subgenres of Norteño-Banda, Corridos and the popular Narco-corridos, which has its roots in the Spanish romance with a variation of the Mexican corrido.

The bases of his style are the polka and waltz rhythms, usually interpreted by typical instruments of the northern and ranch music like the guitar, accordion, snares, low sixth, tololoche and requinto. Narco-corridos are ballads and narrative songs that tell the story of his country's drug lords' lives and often gruesome deaths.

Born in Sinaloa, Culiacan, Rios studied formal composition in the Mexican traditional styles of cancion, nueva cancion, banda, and mariachi. He performed locally where he grasped the attention of label talent scouts for his flashy style and emotional songs that were at the forefront of the Latin alternative movement.

With a demanding touring schedule in 2009 for his first studio album, El Katch was a smash with hit single 'Nomas por Ser Sinaloense'. That same year El Komander was nominated in two categories for the 2009 Radio Awards for New Comer of the Year and Most Handsome.

Following The Katch, Rios released two live albums then in 2014 released "Cazador". This album featured Soy de Rancho and single Malditas Ganas which catapulted his career and landed him on the Billboard top 10 for two years in a row.

In 2015 Rios managed to dedicate himself as the favorites of the public and breaking records of attendance in both the United States and Mexico. He has created a whole new style of Banda that created a massive following.

Rios has released eight albums, been nominated for numerous awards and has over 159 million views on YouTube. Most recently, Rios is promoting his most recent single El Mexicoamericano while on an international tour across Mexico and The United States.

Osmani Garcia

Osmani Garcia is a revolutionary singer and songwriter from Cuba. At a young age, he participated in the National Festival of Cuba. That same year, Osmani was nominated and won several awards in various categories which launched him into a musical career.

In 2001, Osmani launched his very own group El Duo de Cristal. The group intertwined Cuban music and international Pop which earned them number one place in the charts in Radio and TV in Cuba. Still being a young man himself, Osmania wanted to involve the young people in Cuba and all around the world in programs such as A Moverse, Super 12, Mezcla and De Mi Pa Ti.

Osmani's charisma and versatile styles gave him the stage to sing various genres and great musical artists such as Chucho Valdes, Van Van, Gente d 'Zona and many others. In 2008, Osmani started his solo career by publishing music that he never released. He mixed music styles of Salsa, Cha Cha Cha, Reggeaton and Caribbean rhythms.

Following his music release, in March 2012 Osmani went on a tour of 14 cities across the U.S. However, Osmani's latest 2017 projects include collaborations with Reaggaeton artists Justin Quiles. Baila Toma featuring Justin Quiles and Fuego reached 3 million views on Vevo.

Rosa and Jaime

Rosa and Jaime have become a comic duo through their own YouTube Channel., which have gained an average of about 65 million views per comedy sketch. Some of their comedy sketches include mother and son bickering over pranks played towards one another.

In one video clip, Jaime asks Rosa what she is doing as she is separating the beans before cooking them. She yells at him saying what does he think she is doing, and Jaime throws grains of rice on top of the raw dried beans.

They are motivated to continue sharing their jokes on the internet. Check out their YouTube Channel at https://www.youtube.com/channel/UCXt-hLTooi32O38p87YXvGg.

Don't miss this Latin night of Banda, Narco-corridos, Reggaeton, Comedy and more at the LEA on Thursday, October 12. For more information, call (956) 791-9192. Like us on Facebook, Follow us on Twitter or visit learena.com.

###