Bad Bunny ::
Date: Sunday March 25, 2018
Time: 6:00 PM



BAD BUNNY
Sunday, March 25, 2018
Doors at 6:00 p.m.
Show at 7:00 p.m.


FOR IMMEDIATE RELEASE: Monday, February 5, 2018

LAREDO, TX – Urban music sensation, BAD BUNNY, starts 2018 with full force, taking his contagious Trap throughout the U.S. with his first North American tour, "LA NUEVA RELIGIÓN," which will stop at the Laredo Energy Arena on Sunday, March 25. Doors open at 6:00 p.m. and show starts at 7:00 p.m.

"Bad Bunny has collaborated with superstars like Skakira, Nicki Minaj, Daddy Yankee, Prince Royce, Becky G and many others," said Xavier Villalon, General Manager of the SMG - Managed Laredo Energy Arena. "We are excited that he will perform at the Laredo Energy Arena for the first time!"


TICKETS ON SALE FRIDAY, FEBRUARY 9 AT 10AM


Ticket Prices: $143.50 | $103.50 | $83.50 | $63.50 | $43.50
(Charity & Facility Fee Included)
Tickets available at the LEA Box Office, Ticketmaster.com,
or charge by phone at-1-800-745-3000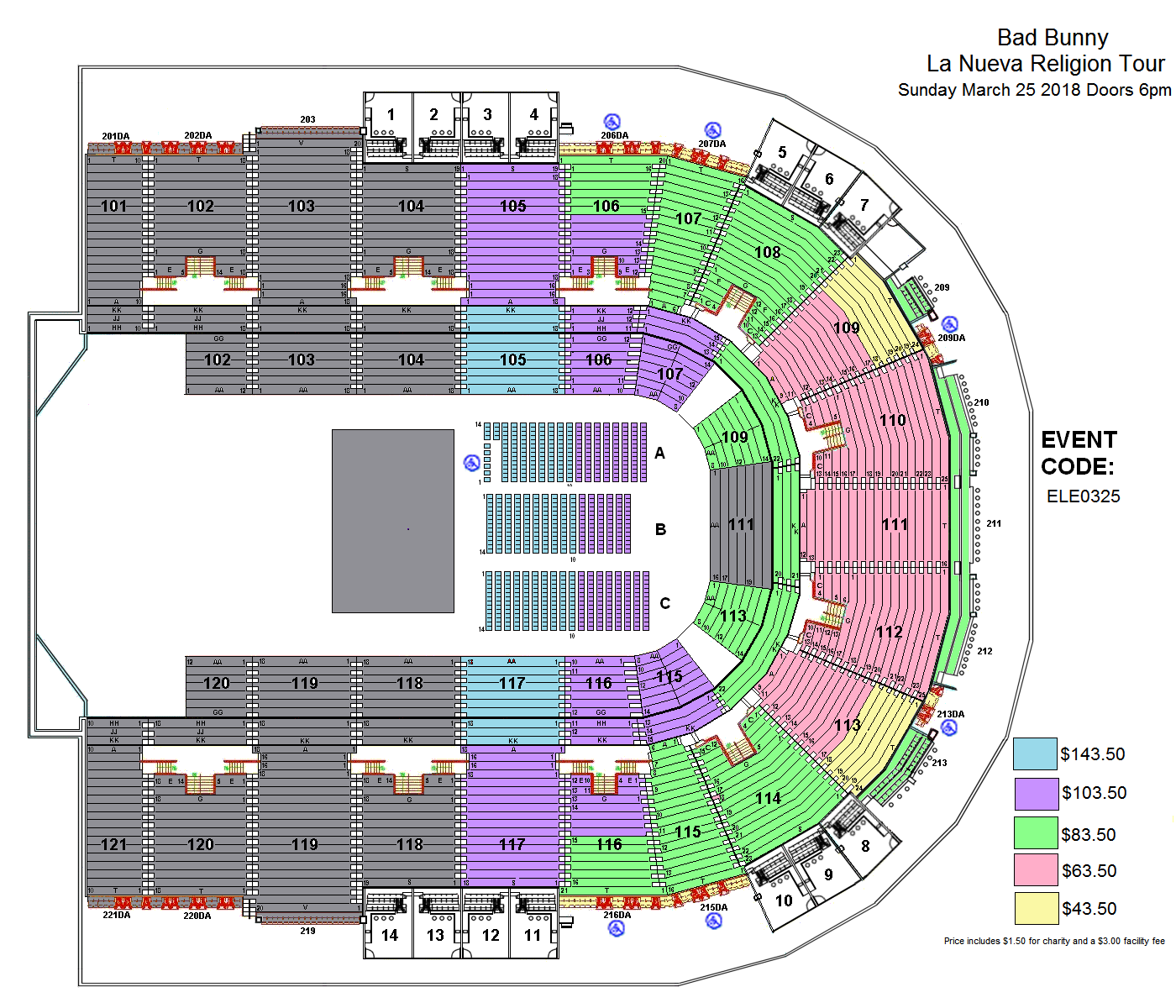 Bad Bunny had a historic 2017 and now he starts 2018 in style. In the first week of the year, the artist celebrates having five of his songs in Billboard's Hot Latin Songs chart, magazine in which he was also featured with an article in the 2018 Predictions section that explores how he has taken Latin Trap to the forefront of the urban genre around the world. Bunny also celebrates receiving a nomination to the iHeart Radio Music Awards in the category of "Best New Latin Artist."

At 23 years old, Bad Bunny has already made a huge impact in the Latin music industry being recently nominated for a Latin Grammy Award for "Best Urban Song" and "Best Urban Performance".

Last month, Bad Bunny released an official music video for his hit "Chambea" which has caught the attention of over 100 million viewers on YouTube alone. Billboard states, "Bad Bunny Takes Latin Trap Mainstream".

People recognize Bad Bunny's unique deep voice on the radio. His fame is accelerating, and is befitting after years of passion and dedication for creating enjoyable beats.

###