HOT SUMMER JAM 2017 - Migos & Yandel ::
Date: Wednesday July 19, 2017
Time: 7:00 PM



HOT 106.1 & Digital 94.9 present
Hot Summer Jam 2017
at the LEA feat.
Migos & Yandel
Wednesday, July 19
Doors 6:00 p.m.
Show 7:00 p.m.


FOR IMMEDIATE RELEASE: Friday, June 9, 2017

LAREDO, TX – Hot 106.1 / Digital 94.9 along with co-producers Rising Star Entertainment Group and Globalgroove Events are proud to announce a first ever shared platform performance by the world's biggest Hip Hop & Rap trio Migos with Reggaetón phenomena Yandel and internationally known dancing duo Les Twins as they will turn up the summer heat and set the Laredo Energy Arena's stage on fire with the Hot Summer Jam 2017 on Wednesday, July 19, 2017.

Don't miss this sizzling event of the summer that will feature a mix of the best artists of today!

"We've brought you Country, Rock, Metal, Disco and the ever so popular Latin & International concerts for the past year. This summer we bring Hip Hop, Rap and Reggaetón for the first time ever to the Gateway City," said Xavier Villalon, General Manager of the SMG - Managed Laredo Energy Arena. "This is one of the many efforts the LEA strives to bring to the city, which are different styles of music and entertainment. There's only a month before the Hot Summer Jam; get your tickets ASAP when they go on sale Saturday, June 17."


BOGO
Buy One, Get One Free
On All Tickets
(While They Last)
courtesy of internetfamous.com
Tickets available at the LEA box office, Ticketmaster.com
or charge by phone at 800-745-3000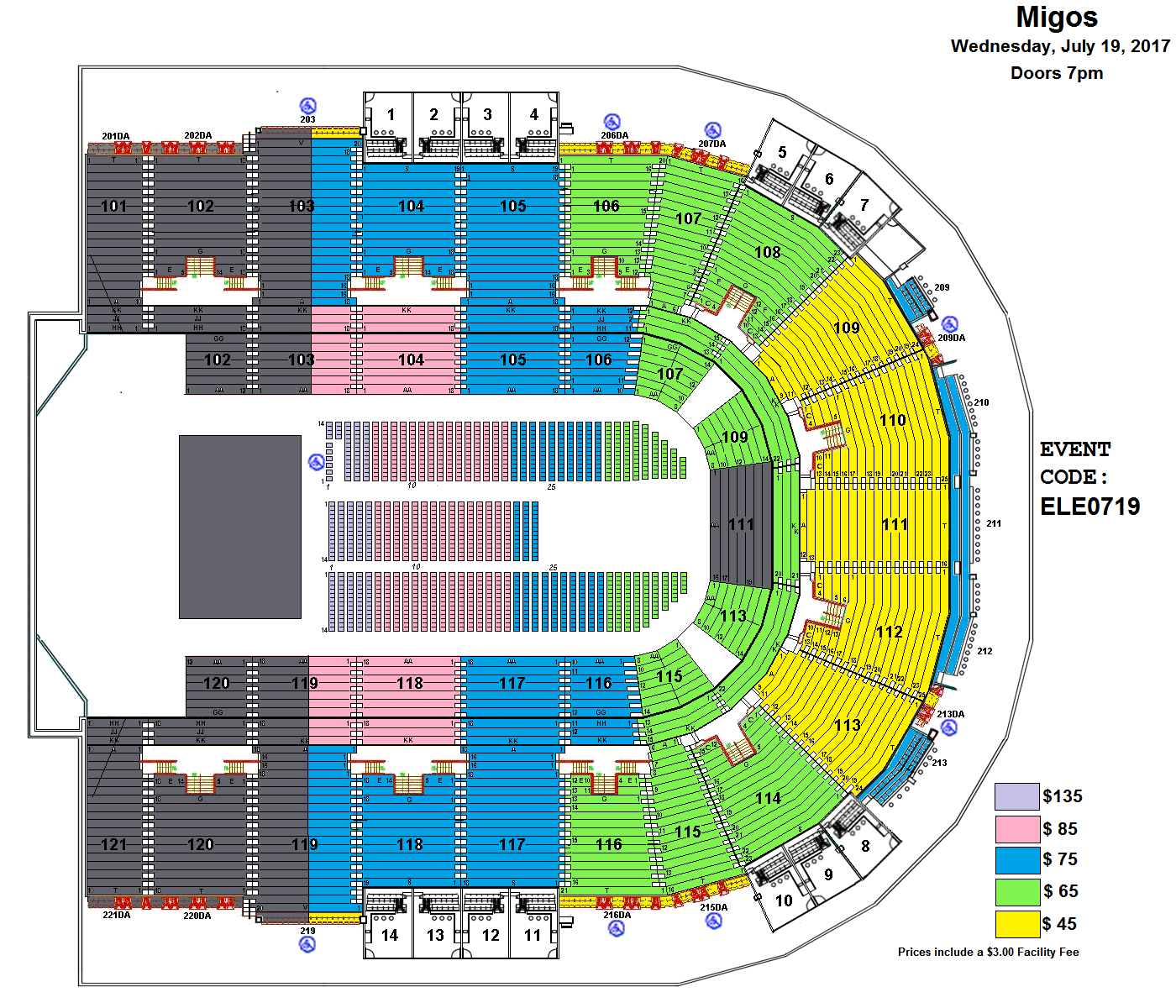 Migos

Migos are infused in the Southern tradition of hip-hop groups, having come together over their shared love of acts like the Hot Boys and OutKast. The trio formed in 2009 and include rappers Offset, Quavo, and Takeoff under the name Polo Club, which the name Migos became official in 2010.

After they released the mixtape, No Label, their featured regional hit "Bando," caught the attention of producer Zaytoven and Kevin Lee, also known as Coach K, the manager who launched the careers of Gucci Mane and Young Jeezy.

The following year in 2013, the group dropped its Young Rich N*ggas mixtape, which featured the instant hit "Versace." That same year, Migos performed at a popular Atlanta festival where they came across Drake. The rapper added a verse to the "Versace" remix and put the cut on his 2013 album, Nothing Was the Same.

The group's next high-profile release was No Label II which featured the hit single "Fight Night". This was a mixtape distributed by major label Atlantic. In 2015, the label released the debut album Yung Rich Nation, which featured the single "One Time."

Later that year, Migos issued the mixtape Back to the Bando, which included their hit song "Look at My Dab." This hit secured a Hot 100 entry for the trio, which also kicked off the 'dabbing' trend, a viral dance phenomenon that became so popular by 2016. Athletes, musicians, and politicians were 'dabbing' to this trend.

As mixtapes continued to drop, Migos released the 3 Way EP in the summer of 2016. By the end of the year, their collaboration with Lil Uzi Vert to create "Bad & Boujee" climbed the top of the Billboard Hot 100. This hit was Migos' first number one single in the US.

Their sophomore set, CULTURE was released in January of 2017, which debuted at number one on the Billboard 200. Recently, Migos was featured in Katy Perry's new single "Bon Appétit" which was released on YouTube.

Yandel

Yandel is more than a reggaetón artist; he is a successful vocalist, composer, musician, producer and Puerto Rican video star. Reggaetón is now secure in its second decade as a musical genre and still successful in the world of entertainment.

Yandel adds distinct mixes of Hip Hop, R & B, and Pop to his rhythm. His influence served as a bridge that intertwined different genres for the mass audience.

Yandel's new and third solo production DANGEROUS hit the market under the Sony Music Latin label. This action packed album revolves around a different musical section of the contemporary pop market. Its themes continue to accumulate audiences

"Calentura Trap Edition" is a trap-remix with special guest Lil Jon from the original single "Calentura". Nominated for a Latin Grammy for Best Urban Performance, the video received more than 12 million views on Vevo for its sensual theme.

Les Twins

Identical twin brothers Laurent and Larry Nicolas Bourgeois are French dancers, choreographers and models. They are recognized internationally for their self-taught talents in new style hip-hop dancing. They learned by observing other breakers, lockers and poppers and by teaching themselves classical ballet techniques.

Known by their nicknames 'Lil Beast' and 'Ca Blaze,' Les Twins were finalists in 2008 on the popular television show Incroyable Talent (Got Talent). Their video performance on the San Diego leg of the 2010 World of Dance tour went viral on YouTube, raising the duo to fame in the United States with over 36 million views as of February 2017.

Les Twins have been featured dancers for music artists such as Beyoncé, Meghan Trainor and Missy Elliot. They've appeared in many high-profile, commercial advertising campaigns and modeled for French haute couture fashion designer Jean Paul Gaultier.

"Our goal is to bring the community together from all walks of life; so we urge you to take advantage of the 'Red, White and Boom' $10 off special!" Villalon said.

Don't miss this sizzling event of the summer that will feature a mix of the best artists of today - the world's biggest Hip Hop & Rap trio Migos, Reggaetón phenomena Yandel and the recently added internationally known dancing duo Les Twins. For more information, call (956) 791-9192. Like us on Facebook, Follow us on Twitter or visit learena.com.


###