August 05, 2017
Cristian Castro ::
Date: Saturday August 05, 2017
Time: 8:00 PM



Cristian Castro
at the LEA
Saturday, August 5
Doors 7:00 p.m.
concert 8:00 p.m.



FOR IMMEDIATE RELEASE: Tuesday, June 13, 2017

LAREDO, TEXAS – One of the best-selling Latin artists, Cristian Castro, will perform at the Laredo Energy Arena's Club Annex on Saturday, August 5, 2017.

"Cristian Castro's singing ability is remarkable," said Xavier Villalon, General Manager of the SMG - Managed Laredo Energy Arena. "We are thrilled he is returning to the LEA for another incredible performance!"



TICKETS ON SALE THURSDAY, JUNE 15 AT 10AM
Ticket Prices: $98 / $72.50 / $52.50 / $42.50
(Facility Fee Included)
TICKETS AVAILABLE AT THE LEA BOX OFFICE, TICKETMASTER.COM
OR CHARGE BY PHONE AT 800-745-3000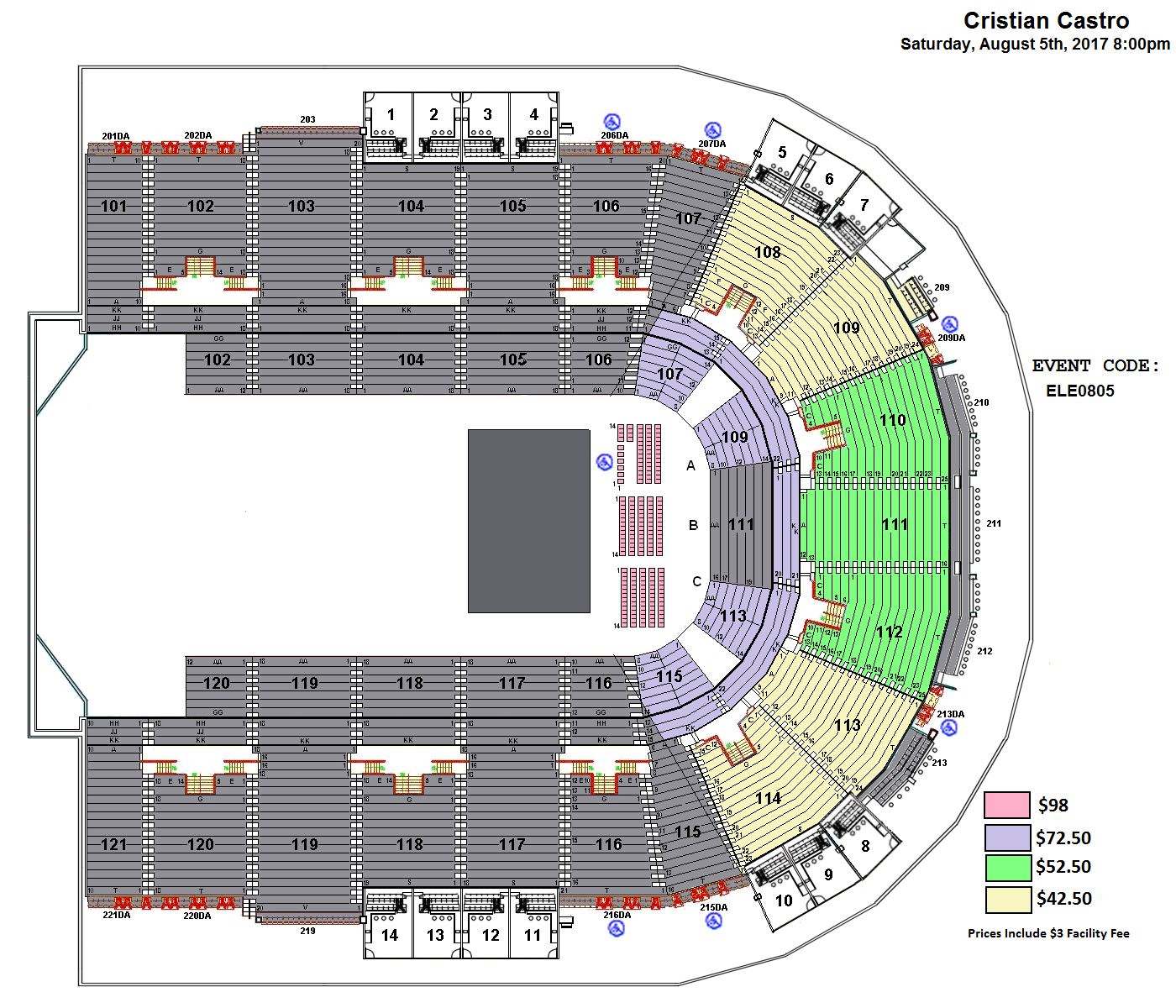 Born in Mexico City, he is the son of renowned actress and singer Verónica Castro and comedian Manuel "El Loco" Valdes. Castro also has a younger brother named Michelle Sáez Castro, his uncle is José Alberto Castro and his aunt is Beatriz Castro, who both are producers.

As a baby, he made his acting debut with her during the telenovela named El Derecho de Nacer. Soon after, he appeared on a television commercial with her, and on the Mexican version of the broadway show Mame alongside the prominent actress Silvia Pinal.

Castro is one of the best-selling Latin artists and has worked with renowned Latin producers including Kike Santander, Rudy Pérez, and Richard Daniel Roman.In 2005, Castro released Días Felices with "Amor Eterno" and "Sin Tu Amor" as the album hit under the Universal Music Latino label. In 2006, Castro contributed on a tribute work to Victor Yturbe "El Piruli", in which he sang Mil Besos.

On June 26, 2007, Castro released his first mariachi album, El Indomable, which was produced by Vicente Fernandez, and released the single from the album, "Tu Retirada". Castro announced that the divorce with Valeria has led him to bankruptcy.
A new album, "El culpable soy yo", was released on April 28, 2009. He sang at the "Latin Grammy Celebra José José" ceremony and is said to have made one of the best tributes to his idol.

On September 28, 2010, he released the single "La Nave del Olvido"and "Amor, Amor" as part of his tribute album to José José, Viva el Principe. In 2011, a follow-up to Viva el príncipe is being recorded under the title Mi Amigo El Príncipe.

For additional information, call (956) 791-9192, visit learena.com, Like the LEA on Facebook and follow us on Twitter.


###