August 12, 2017
Marco Antonio Solis ::
Date: Saturday August 12, 2017
Time: 8:30 PM



Latin Grammy Award Winner to Perform at the LEA
Doors Open at 7:30 p.m.
Show Starts at 8:30 p.m.


FOR IMMEDIATE RELEASE: Tuesday, May 16, 2017

LAREDO, TEXAS – Five time Latin Grammy Award winner Marco Antonio Solis will perform at the Laredo Energy Arena on Saturday, August 12, 2017.

"We are excited that Marco Antonio Solis is returning to the LEA," said Xavier Villalon, General Manager of the SMG - Managed Laredo Energy Arena. "He has been influential in the Mexican and Latin world of music for 40 years, in which we will be celebrating his 40th Anniversary this year at the LEA."

TICKETS ON SALE FRIDAY, MAY 19 AT 10AM
Ticket Prices: $203 / $163 / $110 / $92.50 / $72.50 / $52.50
(Facility Fee Included)
TICKETS AVAILABLE AT THE LEA BOX OFFICE, TICKETMASTER.COM
OR CHARGE BY PHONE AT 800-745-3000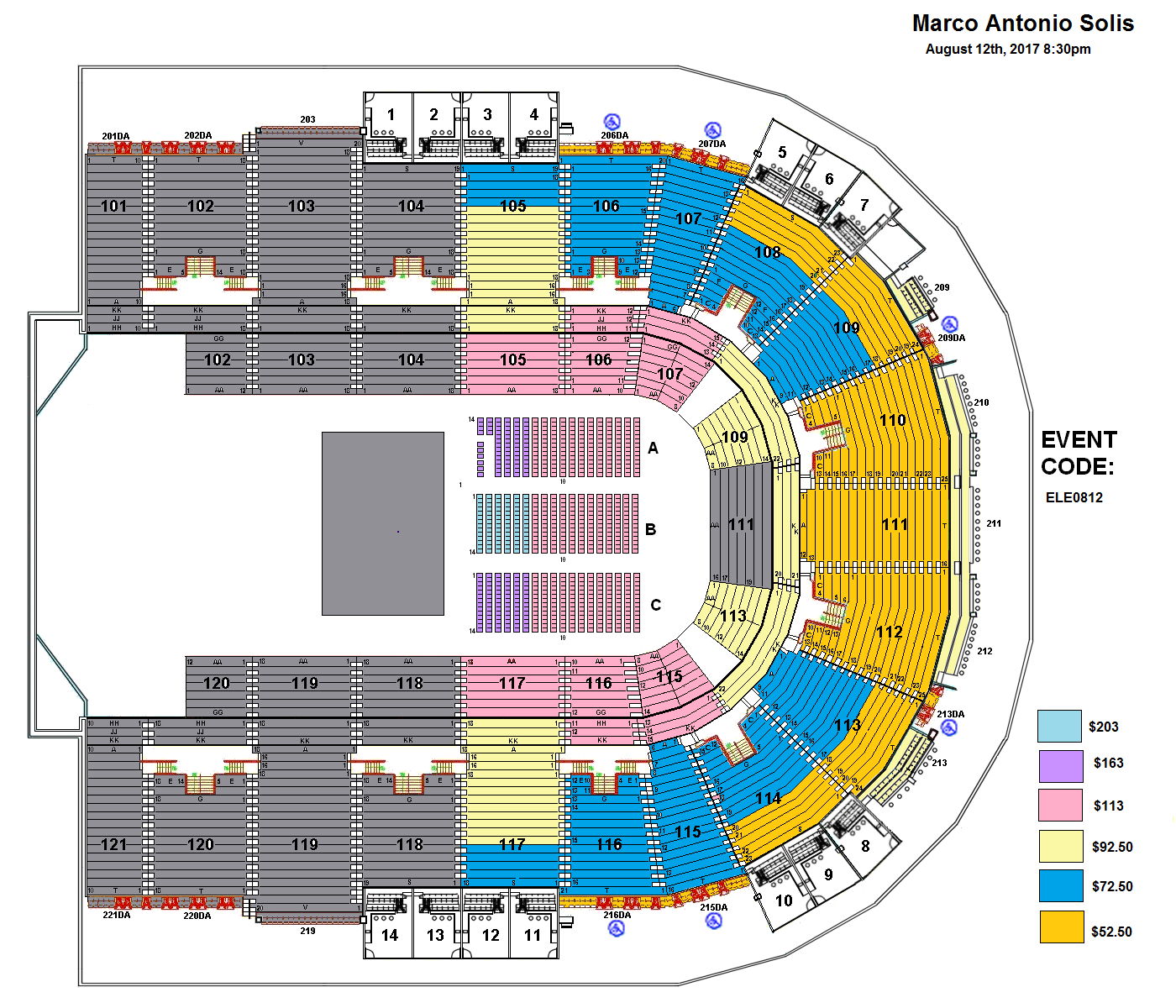 Marco Antonio Solís is one of the most significant figures in the rise of Mexican and Latin music to world prominence during the last two decades of the twentieth century. Solis is a musician, composer and record producer in the genres of Latin pop, grupero, cumbia and ranchera.

Born in Michoacan, Mexico, Solís as a young boy formed his first group, Los Hermanitos Solís, with his brother Joel. In the mid-1970s, Los Bukis was formed which Solis achieved success in Mexico, Central America, South America and the United States.

The group Los Bukis deeply influences the norteño and tejano music of Mexico and the southwestern regions of the United States over the course of the next two decades. Solis became known in the industry for outside writing and producing for popular singers such as Marisela and Rocio Durcel.

After almost 20 years of working with Los Bukis, Solis decided to pursue a solo career which resulted in platinum certifications in the mid-'90s LPs such as Quiereme, Inalcanzable, and Por Amor a Mi Pueblo. Trozos de Mi Alma followed in 1999.
Solís steered in the new millennium with a two-volume live set, En Vivo and En Vivo, Vol. 2. His next studio album, Mas de Mi Alma, was released in 2001 and, like his previous solo albums, became a best-seller.

Solis remained a popular solo artist in his native Mexico, Latin America, Spain and the United States with more than 30 entries on Billboard's Hot Latin Tracks chart, including multiple number one hits. He's worked with Olga Tañon, Ana Barbara, Enrique Iglesias and Anais, among others.

He received his star on the Hollywood Walk of Fame in the summer of 2010. He's also appeared as a vocal coach in the third season of La Voz (The Voice) in Mexico and won the competition.

For additional information, call (956) 791-9192, visit learena.com, Like the LEA on Facebook and follow us on Twitter.

###


Ganador del Grammy Latino Actuar en la LEA
Puertas - 7:30 p.m.
Show - 8:30 p.m.

PARA PUBLICACION INMEDIATA: martes, 16 de mayo del 2017

LAREDO, TEXAS - Ganador del premio Grammy Latino Marco Antonio Solís se presentará en el Laredo Energy Arena el sábado 12 de agosto del 2017.

"Estamos emocionados de que Marco Antonio Solís esté regresando al LEA", dijo director general de la SMG - Laredo Energy Arena. "Ha sido influyente en el mundo mexicano y latino de la música por 40 años".



BOLETOS A LA VENTA VIERNES, 19 DE MAYO A LAS 10 DE LA MAÑANA
Precios: $ 203 / $ 163 / $ 110 / $ 92.50 / $ 72.50 / $ 52.50
(Tarifa de instalación incluida)
BOLETOS DISPONIBLES EN LA TAQUILLA DEL LEA,
TICKETMASTER.COM O POR CARGO POR TELÉFONO EN 800-745-3000


El cantante Marco Antonio Solís, mejor conocido en la escena musical como el Buki, celebró este fin de semana sus cuatro décadas de carrera con un magno concierto en el que estuvieron presentes familiares, amigos y colegas.

"Hice las cuentas y no tiene sentido para mí, porque solo tengo 43 años de edad", dijo bromeando el cantante sobre sus 40 años de carrera en el evento celebrado el sábado por la noche en un abarrotado Staples Center de Los Ángeles .

Solís de 56 años, estuvo acompañado en el escenario de sus hijas, Beatriz Adriana, Alison y MarlaSolís, quienes interpretaron temas del repertorio del cantautor nacido en Michoacán, México.

A dúo con la cantante Lucero, Solís interpretó el clásico "La pareja ideal", luego le tocó el turno a AnaBárbara, con quien interpretó "Cómo me haces fala. Jesse & Joy completó el cuadro multiestelar que acompañó al cantante para repasar temas como "Tu cárcel", "Morenita" y "Se va muriendo el alma".

"Eres un gran artista y mejor persona ¡Aplauso de pie por tus 40 años de impecable trayectoria artística! Gracias por invitarme a cantar contigo", dijo Lucero en un mensaje colgado en Instagram con una bonita foto de ambos en el recital.

En un momento del concierto, el Buki aprovechó para hablar sobre el candidato republicano a la presidencia y el muro que éste quiere levantar entre Estados Unidos y México.

"Nosotros no queremos muros que nos separon, queremos puentes que os unan", dijo Solís, en declaraciones recogidas por Billboard.com. "Las mentes nos separan, los espíritus nos unen. La música nos une también".

En el impresionante concierto, del que se agotaron las entradas, el legendario cantante estuvo rodeado de 20 pantallas verticales y contó con el acompañamiento de cinco coristas y más de 20 músicos. "Aquí estoy, celebrando 40 años de música. Tengo dos palabra para ustedes: eternamente agradecido", dijo el cantante

Para obtener más información, llame al (956) 791-9192 o visite learena.com.


###