March 11, 2017
Yuridia ::
Date: Saturday March 11, 2017
Time: 8:30 PM



Latin Pop Star Yuridia
to Perform for the First Time
AT THE LAREDO ENERGY ARENA
Doors at 7:30pm | Show at 8:30pm


FOR IMMEDIATE RELEASE: Wednesday, December 14, 2016

LAREDO, TEXAS – Latin Grammy Award Nominee and Latin Billboard Award Winner for Best Pop Female Album Yuridia will perform for the first time at the Laredo Energy Arena's Club Annex on Saturday, March 11. 2017.

"We are excited that the Yuridia 6 Tour, based off her 2015 album titled '6', will be stopping at the LEA," said Xavier Villalon, General Manager of the SMG - Managed Laredo Energy Arena. "She is well known in the United States for covering 90s song from Bon Jovi's 'This Ain't a Love Song' and 80s hit 'Listen to Your Heart' by Roxette in Spanish. This is her first time at the LEA, so let's give her a big Laredo welcome!"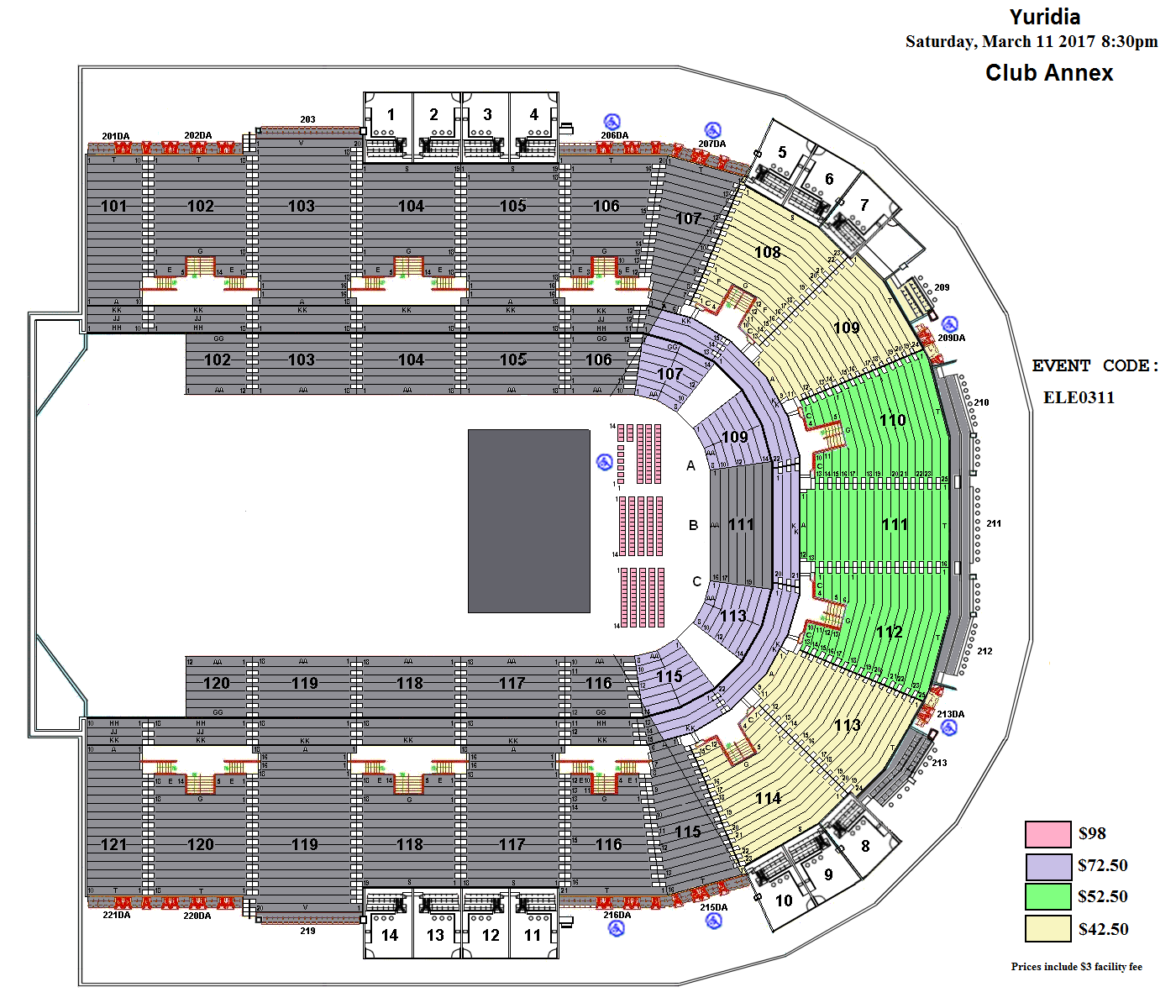 Ticket Prices: $98 |$72.50 | $52.50 | $42.50
(Facility Fee Included)
Tickets available at the LEA Box Office, Ticketmaster.com or charge by phone at 1-800-745-3000

Yuridia placed second in the fourth season of a popular Mexican reality show called La Academia. She had become one of the highest selling artists in Mexico at the age of 19, surpassing Thalia in the 90s. With over 1,500,000 copies of her debut album sold, she also out beat artists such as Luis Miguel and Juan Gabriel.

Her voice earned her Spanish nickname Voz de un Ángel, meaning Voice of an Angel in English, that led to her debut album's title La Voz de un Ángel. This album has been certified two times Diamond and three times Platinum plus Gold.

On December 5, 2006 Sony BMG released Yuridia's second album, Habla El Corazón, which contains U.S. hits songs 'This Ain't a Love Song' by Bon Jovi and 'Listen to Your Heart' by Roxette. The album includes other Spanish covers of well-known songs from artists such as Bonnie Tyler, and The Police, which also sold 660,000 copies worldwide. To this date, this album is Yuridia's most successful in the United States. It debuted at 15 and peaked at number 14, while the single peaked on Billboard's Hot Latin Tracks chart at 16.

Yuridia's third solo album, Entre Mariposas, was released on November 15, 2007 in Mexico. The first single from the album was Ahora Entendí. The following single 'Yo Por El' peaked at number one in Mexico and Central America. The third and last single 'En Su Lugar' debuted at number 16 and later reached the fourth spot. The album quickly garnered major sales and was certified Gold for selling 50,000 copies within the first day of its release.

She released albums Nada es Color de Rosa in 2009 and Pari Mi in 2011. Her latest album, 6, was released in 2015 and is also the name of the tour that will stop at the LEA on Saturday, March 11, 2017. For more information, call (956) 791-9192, Like us on Facebook and Follow us on Twitter.

###